dining
nourish your day
Our innkeepers bring their love of food and cooking to preparing farm to table meals for our guests. Our delicious breakfasts feature fresh, locally grown ingredients, sometimes harvested that very morning from our own garden.
A farm to table breakfast worth waking up for.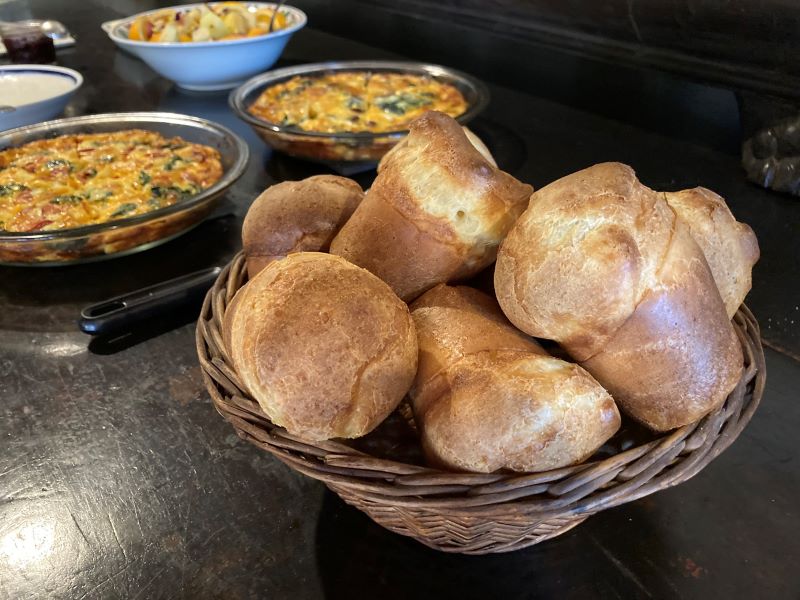 We make our complimentary continental breakfast from scratch every morning. Breakfast includes seasonal fruit, hot cereal or granola, and toast made from our artisanal whole-wheat bread. Beverages include fresh coffee, an assortment of teas, orange juice, and milk.
We also offer a selection of heartier farm to table breakfast dishes for purchase. Most mornings, guests have the option of freshly baked goods, eggs made to order, bacon and/or sausage. Other mornings, we may prepare biscuits and gravy, quinoa pancakes, quiche with seasonal vegetables and local cheeses, waffles with berry compote, or egg strata to name a few.
Breakfast is available between 8:00 AM and 10:00 AM and can be enjoyed in the breakfast room or out on the terrace. We are happy to accommodate most dietary needs with advance notice. Please contact the innkeepers at least one week prior to arrival to ensure that they are prepared for your visit.
Please note that cell phones are not permitted in the breakfast room during breakfast hours. Instead, we invite you to be fully present to your fellow diners and your meal.
ready to make your reservation?
We ask all new guests to review our reservation policies.
Then, email or call us for more information, to request a reservation, or arrange for a gift certificate!